Media speculation links Cytacom bomb attack in Limassol to 5G auction later this week
An explosion took place outside a CYTA branch in Limassol with media speculating the attack could be linked to an upcoming announcement this week over 5G contracts.
Local media said a bomb went off at the entrance of a CYTACOM branch of Cyprus Telecommunications Authority, a state-funded telecoms company, on Sunday night just before midnight.
Cyta is among bidders competing for 5G licences, with an announcement on provisional winners expected on Thursday
Police said a homemade metal pipe bomb was used in the attack which took place around 11:40pm, causing damages in the entrance of the building located in Ayia Fyla, Limassol district.
Additional reports said anti-5G graffiti was also scribbled on a commercial sign as well as glass door, while the same perpetrators were believed to have carried out an attack at a nearby Hellenic Bank branch, using a Molotov cocktail and fireworks.
According to local reports, an attempt to burn down a Christmas tree took place outside the municipality's administrative building.
Police have been on alert since previous arson atacks took place against phone antennas, with anti-5G activism and rhetoric against technology on the rise. Local reports pointed out a message of local resistance was also scribbled on the wall next to the bombed entrance.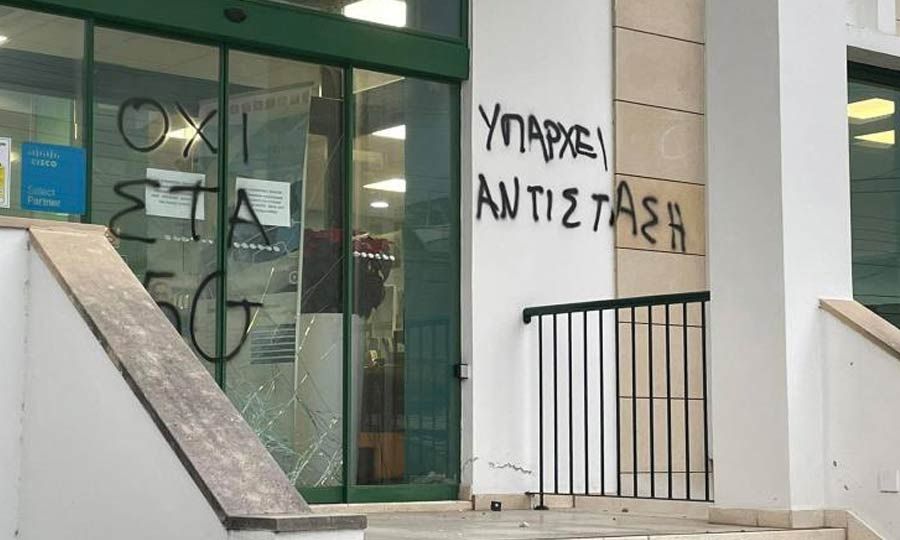 Cyta is among bidders competing to win 5G licences, with an announcement on provisional winners expected on Thursday.
Six 2x5MHz lots in the 700MHz band and eight 50MHz lots in the 3.6GHz band are up for auction, with bidders including Cyta (Cytamobile-Vodafone), Epic, PrimeTel, and Cablenet. 
Vodafone is also currently bidding in Greece, with auctions in that country expected to take place also this week.
Successful bidders in the Republic of Cyprus will be required to deploy enough 5G networks to cover 70% of the population, alongside all major highways by 2025.