Lawyer writes letter to Police Chief asking for public information based on recent law following Twitter account raid
A well-known Cypriot lawyer, who raised questions over a home search after Justice Minister Emily Yiolitis filed a criminal complaint against a Twitter parody account, has written to the Police Chief asking to obtain public information as a concerned citizen.
Local attorney Achilleas Demetriades, known throughout the island for his work in human rights cases, wrote an email to Police Chief Stylianos Papatheodorou asking for information following a number of questions raised by legal experts, including possible abuse of power.
Cyprus' legal community has been very active over the last week following debate on social media over a botched Twitter raid in Larnaca, where police officers confiscated a computer and a phone belonging to a woman suspected of impersonating Yiolitis as well as violating the privacy of the minister's relatives.
The account in question was a parody account that appeared to poke fun at Yiolitis, a former corporate lawyer in Limassol, whose personal life and lifestyle is often picked apart by posts from Twitter handle "Lady Emily Kardashian Duchess of Yiolou" as well as replies from other social media users.
Local media reported that police said nothing incriminating had been found and the confiscated devices were returned the next day to their rightful owner
Local media reported that police said nothing incriminating had been found and the confiscated devices were returned the next day to their rightful owner.
But critics including media pundits and legal experts questioned the legality of the search in the first place, saying this should have been a civil court case and not a criminal investigation carried out by police.
Police spokesperson Christos Andreou previously said the Twitter handle made references to close relatives and family members of Yiolitis, adding they proceeded to obtain a search warrant to investigate possible criminal violations including impersonation and privacy breach offences.
Andreou also said police would receive some 50 complaints in a year regarding similar issues involving social media accounts, adding there was nothing different in how they handled any and all cases including the one with Yiolitis.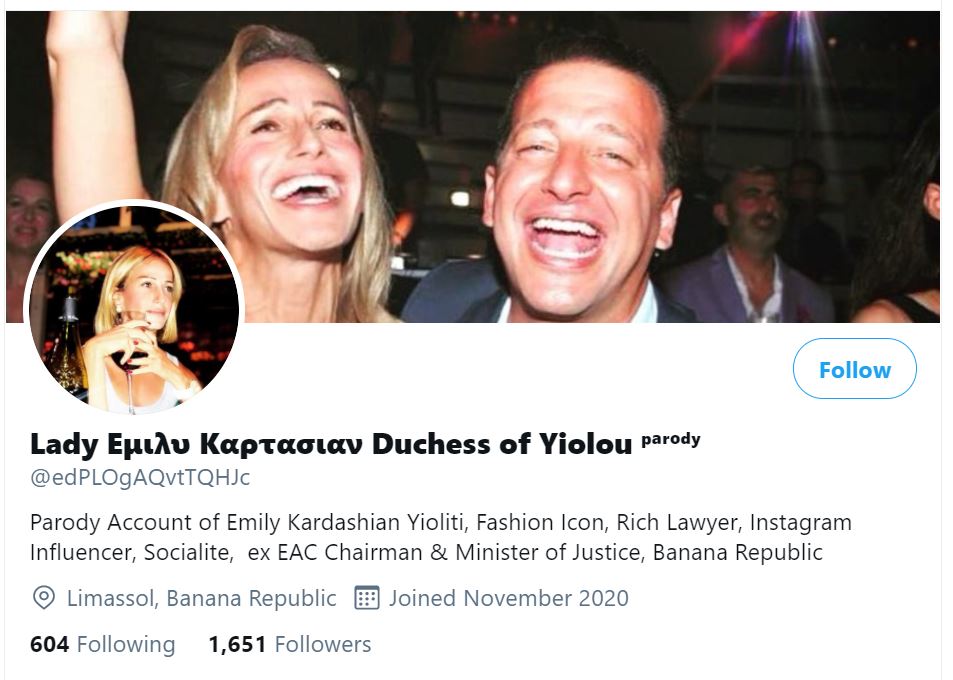 But local attorney Michalis Paraskeva, who posted on social media a redacted copy of the sworn statement by a police officer in the case, suggested police and Yiolitis were not being clear on the issue.
Paraskeva said Andreou initially told media police acted independently and not on a complaint filed by the minister, while it later emerged that police prosecutors seeking a search warrant had told a Larnaca judge a complaint had been filed by Yiolitis.
"One of them is lying," Paraskeva wrote on Facebook, adding that the minister's position on the matter had also been vague.
Police initially did not clarify whether Yiolitis filed a specific complaint against the woman. It was also not clear whether Cyber Crime officers had placed the Twitter account under surveillance for some time after the justice minister had brought the account to the attention of law enforcement.
Critics said humour posted by a clearly-marked parody account should not have been the subject of a police investigation, but police say they had reasonable suspicion a person had committed a crime.
Right to access public information
Another Cypriot attorney intends to find out exactly what happened by asking for more details using a law that recently came into force regarding access to public information.
Attorney Achilleas Demetriades, known throughout the island for his work in human rights cases, wrote an email Police Chief Stylianos Papatheodorou asking him to confirm whether police had details on 50 complaints as well as state the exact number of such complaints between 2016 and 2020 per district.
Demetriades, who said it was important for lawyers to lead the way and show how citizens can obtain access to public information, said he was acting as a concerned citizen.
Lawyer accused of ulterior motives
But Victoras Papadopoulos, director of the President's press office, questioned Demetriades' motive by responding to a comment on Twitter where he described the lawyer as "a wannabe presidential candidate" who was doing the work of an opposition party on the left.
"This is why he tends to emerge and accuse the government whenever there is a catchy topic in the media," Papadopoulos said.
AKEL party has formally registered the issue with the House legal affairs committee, where the justice minister and the government could be called to address a series of questions over the case.
MP Stefanos Stefanou described the issue as "very serious" and accused the justice minister of exerting her influence over the police. He also said citizens had the right to know if cops could raid a home if someone uses satire to criticize politicians, suggesting that police raided the residence in order to access information that could lead them to the identity of the owner of the parody account.
In his letter to the police chief, Demetriades also asked to learn the political position of persons who filed complaints each year, as well as the total number of complaints that were filed as criminal cases and their legal outcomes, without asking for names or personal information.
Legal expert Christoforos Christofi, who runs a YouTube channel called LegalMatters, wrote on Twitter that Demetriades' letter to the Police Chief was important both in "substance as well as symbolism."
In December 2017, a Law providing for the right of Access to Public Sector Information was adopted and entered into force in December 2020, for the purpose of enhancing transparency within the public sector.
The law makes clear that citizens have the right to request and receive public information under certain conditions, while also calling on public authorities to have plans in place that make access easier by publishing data online instead of requiring forms to be submitted.
Police have 30 days to respond to Demetriades according to legal experts.