Source: Car and Motor
BYD is preparing to launch the new Seagull electric city car, which will offer a range of 300 km and a plethora of features in addition to an affordable price of around 8,000 euros, depending on the exchange rate.
The new BYD Seagull will go on sale in China in April, followed by various markets around the world, including Europe, shortly thereafter.
These days, the Seagull has been spotted in a pale pink color around the company's factory, a shade that the Chinese say appeals to the female gender but is difficult to see in Europe.
BYD Seagull 3
BYD's new electric city car measures 3.78 meters long, 1.71 meters wide, and 1.54 meters tall. This translates into more correct proportions in relation to the, truth be told, competition, and consequently more spacious inside.
According to Chinese press leaks, the new BYD Seagull will start at just over 8,000 euros (8,200 euros). It goes without saying that it will be slightly more expensive in Europe due to transportation costs and import taxes in each country. This means that it is up to BYD to launch it as the most affordable electric city car in Europe, as its production costs are lower due to the sodium-ion battery that the standard version will have.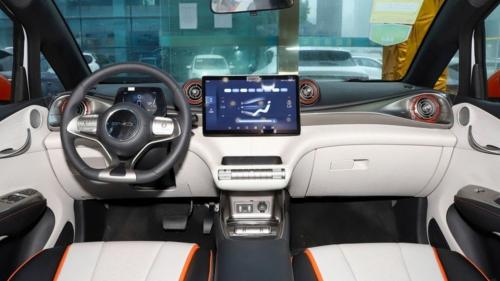 BYD Seagull 4
The BYD Seagull, in particular, is expected to be the first electric car with such a battery, but only in the base model. In other words, the new Seagull's electric powertrain consists of a 75-horsepower electric motor and a 300 km range sodium-ion battery. There will also be a version with a different battery technology, an LFP-type battery, with a 400-kilometer range.
We don't know when BYD's new electric city car will be available. As a reminder, BYD is already present in Greece, so it is not impossible that we will soon see the Seagull in our country - assuming, of course, that the Chinese automaker's production line allows it.