Jane Holl Lute arriving to see President Anastasiades
The UN Secretary General's Special Envoy on Cyprus, Jane Holl Lute, will hold on Monday new meetings with Cyprus President Nicos Anastasiades and Turkish Cypriot leader Mustafa Akinci, with a view to formulate the terms of reference that will pave the way for the resumption of the settlement talks on Cyprus.
Lute will meet with Anastasiades at 1630 local time (1430 GMT) and with Akinci at 1400.

Lutte held meetings with the two leaders on Sunday as well. In statements after the three-hour meeting which Anastasiades had with Lute, Government Spokesman, Prodromos Prodromou, said that they had a good and productive meeting and that the two sides exchanged views on the formulation of the terms of reference.
"It was a good, productive meeting" where the two sides "had the chance to exchange views, aiming always at formulating the terms of reference that are necessary to start negotiations again" he noted.

Asked if there is any result in this direction, Prodromou said that "this is a productive process, with a constructive discussion taking place. Ηowever the process is still ongoing."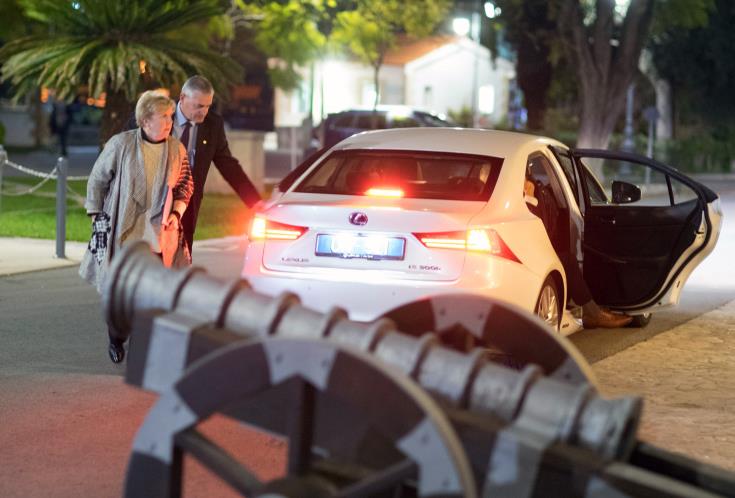 Prodromou was also asked if the UN envoy conveyed an invitation for a meeting to President Anastasiades on behalf of the Turkish Cypriot leader, Mustafa Akinci, and said that no such thing happened.

He was also asked about the documents which the Greek Cypriot negotiator brought to the meeting, leaving briefly the Presidential palace, and said that "there are related to the President's preparation. You know very well that there is a meticulous preparation regardıng the whole history of the negotiations, because we are talking about the resumption of talks." It is logical that the President needs to have access to the documents and archives, to consult them, he noted.

On another question, whether we are any closer to codifying the terms of reference, Prodromou replied that "we will see tomorrow." The Government Spokesman said finally that "Lute comes and exchanges ideas with the President of the Republic" when asked if the UN envoy presented any idea or informal document to the President.

Asked to comment on the presence of "Barbaros", a Turkish seismic research vessel, in Cyprus' exclusive economic zone, Prodromou said that it is the government's standard practice not to comment on that. "When there are irregularities, measures are taken by the authorities of the Republic and the necessary demarches are made" he concluded.