Disappearance case getting more complicated after uncle points finger yet again at nephew
The disappearance of a Limassol man feared murdered has become more complicated after the uncle of the main suspect, known as Little Hacker, offered to point investigators to possible burial sites claiming they were picked by his nephew.
Time is running out for police as they try to keep Little Hacker behind bars, with the 24-year-old suspect's second 8-day remand set to expire in two days in connection with the disappearance of 31-year-old Angelos Perikleous, who went missing last month and his torched car was found in rural Nicosia.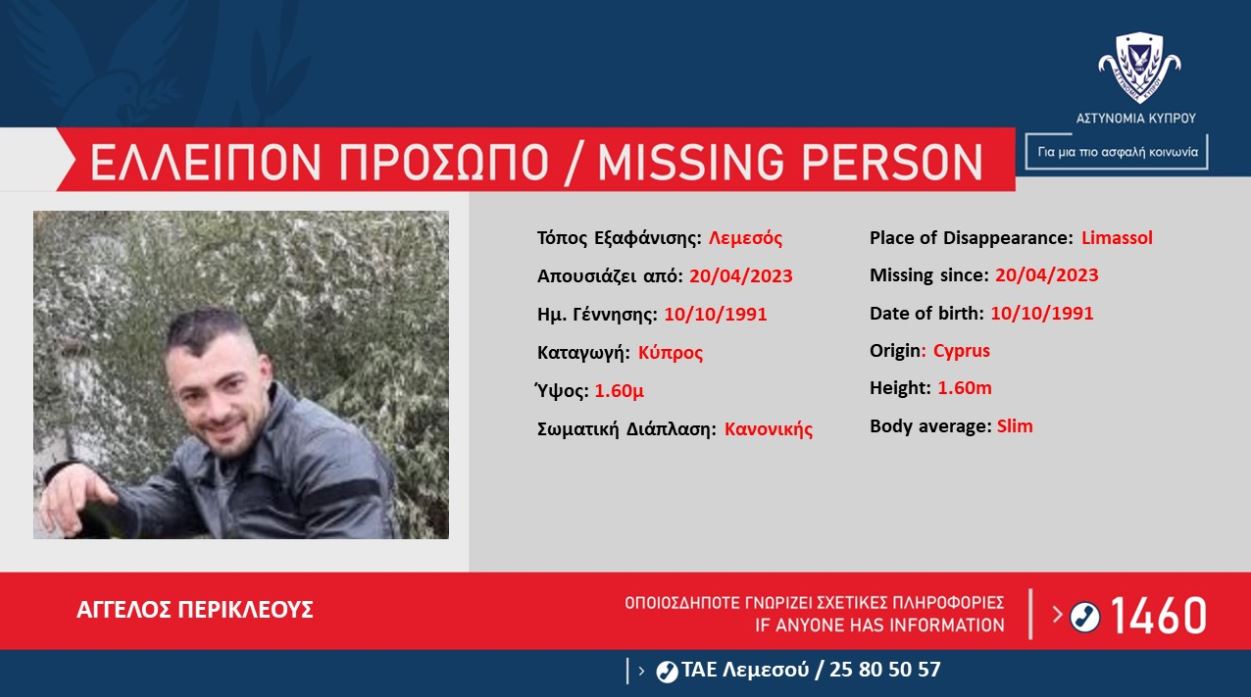 Following multiple failed searches to locate Perikleous or any other evidence about his fate, the 71-year-old man offered to point investigators to possible burial locations that he says his nephew had pointed out to him before the disappearance.
Little Hacker had previously reported to police that he was roughed up by Perikleous, who allegedly robbed him of €100,000 in cash during a cryptocurrency deal but he later withdrew the complaint against the 31-year-old after the two men were said to have come to an understanding.
But police believe Little Hacker may have had a motive to kill Perikleous, with several pieces of evidence pointing to the young man as the prime suspect.
Details heard in court suggested prosecutors were told that the detained uncle of the main suspect might know where Perikleous' body was buried. The 71-year-old man said Little Hacker himself had pointed out to him several sites before the disappearance, saying the young man had been scouting for burial sites.
Both owners of the abandoned vehicles in question, the 71-year-old and the 38-year-old detained suspects, are said to be cooperating with police, while Little Hacker has refused to answer questions
Little Hacker, who has refused to answer any questions, was last seen with Perikleous on April 20, when the two were seen driving off together from the missing person's residence.
Two cars implicated in the case have been a big puzzle after one vehicle belonging to another 38-year-old suspect was found with dozens of bullet rounds, a knife, duct tape, gloves, and drugs.
The second vehicle said to belong to the uncle was later found abandoned in coastal Limassol with dirt and a flat tire, with duct tape found inside.
Both owners of the abandoned vehicles in question, the 71-year-old and the 38-year-old detained suspects, are said to be cooperating with police.
After his arrest, the uncle on April 30 told investigators that he had been asleep on April 21 when Little Hacker woke him up and told him he had shot, killed, and buried Perikleous.
The uncle also says put a gun to his head and forced him to drive with him to a shooting range in rural Nicosia where Perikleous' torched car had been found.
According to details heard in court, an article of clothing matching what Little Hacker had been wearing, when he was caught on video tape at a shop where he went with the 38-year-old suspect to buy baseball bats, was found in the torched car but the state of the burned material was unknown.
Other suspects also detained in the case were later released, including the main suspect's mother who is being accused by investigators of not being forthcoming about her son's whereabouts.
Little Hacker made history by being the first Cypriot national to be extradited to the United States after his role in hacking and extortion schemes -while still being a teenager- caught up with him.
A gifted student with excellent computer skills, he dropped out of high school before his senior year to help his mother, a naturalized citizen from the Philippines who was facing economic hardships.
The main suspect was also involved in a long and protracted court battle where his father, a Cypriot national, had denied paternity until a DNA test was ordered by a judge and proved he was the biological father.
After doing time in a US federal prison, he came back to the island where he still had run-ins with law enforcement and criminal elements.
Police spokesperson Christos Andreou told state radio on Monday that they investigators had some leads in the case but party searches so far had failed to locate anything.
Andreou also clarified recent information about more searches for burial sites, saying there had been no new on-site inspections but new information was being evaluated.