Little Hacker rearrested as police rely on frenemies and family feud for evidence to build murder case
New developments and more questions emerged on Tuesday in the disappearance of a Limassol man after police re-arrested the main suspect hours before his remand expired, with reports saying the judge heard about new incriminating statements from other jailed suspects.
The Little Hacker, a 24-year-old who is the main suspect in the disappearance of 31-year-old Angelos Perikleous, was about to walk free on Tuesday at the end of his eight-day remand when police took him to court for a new hearing.
Following a long holiday weekend with a failed search and no new evidence in the case, police presented new last minute information to the judge saying another suspect told investigators that the Little Hacker confided in him that he had shot and killed and buried Perikleous.
The new witness, a 71-year-old Greek Cypriot man described by local media as Little Hacker's uncle, is purported to have told police that the main suspect came to his residence, woke him up, told him he had killed Perikleous, and forced him to go together to a shooting range in rural Nicosia to torch Perikleous' vehicle.
Police found the torched vehicle before making the disappearance public, while additional reports said clothes matching what Little Hacker had been wearing was found inside the actual burned vehicle
Prior to the disappearance two weeks ago, Little Hacker had reported earlier to police that he was roughed up by Perikleous, who allegedly robbed him of €100,000 in cash. He later withdrew the complaint against the 31-year-old after the two men were said to have come to an understanding.
But police are now charging Little Hacker with premeditated murder after his uncle joined a list of other suspects who pointed the finger at the main suspect. No body has been found in connection with the case but police suspect foul play.
Another suspect in the case, a 37-year-old male who was also remanded in custody but was finally let go on Tuesday, reportedly told police he lent his Honda to Little Hacker. The vehicle in question was later found abandoned in coastal Limassol with a flat tire and an unspecified number of bullets inside. Police say they have evidence, including video footage, that Little Hacker drove the vehicle with another male passenger to a shop where they were caught on video by security camera.
Both the 71-year-old and another detained 38-year-old suspect, who was said to have joined the operation after a quick stop at a shop to buy flammable liquid, were the individuals who pointed authorities to specific locations where search parties so far failed to locate Perikleous or more evidence regarding his disappearance.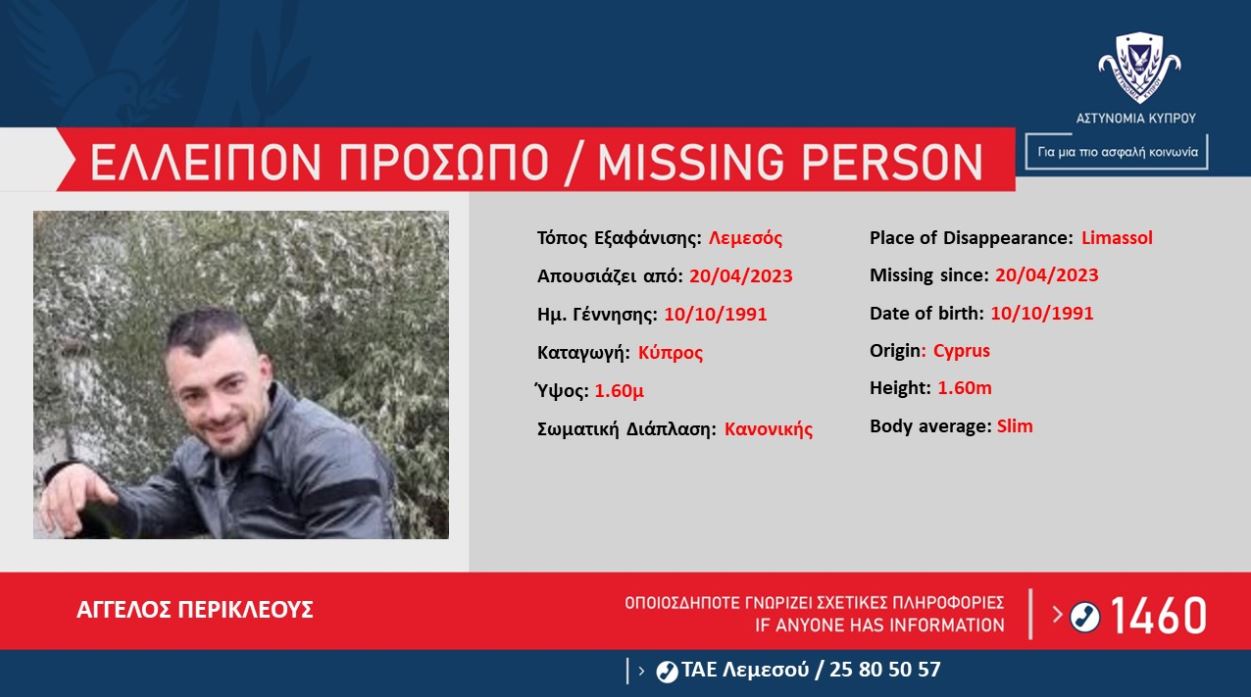 The 38-year-old suspect has been described by local media as the person who arranged for Little Hacker to drive a Honda, belonging to a 37-year-old suspect, while a different getaway car belonging to the uncle was said to have been driven to the shooting range along with Perikleous' Mercedes that was torched.
Police said the 37-year-old man, who was arrested days after the main suspect walked into a police station following news of Perikleous' disappearance, was also let go on Tuesday. Local media said the 37-year-old told police he was with Little Hacker when they went to a shop in Nicosia to buy baseball bats.
The main suspect's mother, who is being accused by investigators of covering for her son's whereabouts, was also let go on Tuesday after her three-day remand expired. She reportedly told police her son had slept at her house on the night of the disappearance on April 20 and that he left home late the next morning.
While Knews has learned that she has not been charged with a crime, she is facing possible charges of being an accessory-after-the-fact according to police.
Notoriety, skills, broken family
Little Hacker made history by being the first Cypriot national to be extradited to the United States after his role in hacking and extortion schemes -while still being a teenager- caught up with him.
Cypriot authorities have only extradited the Little Hacker and one other Lebanese national to the States, while critics cried foul and accused prosecutors of double standards, pointing to another Cypriot businessman who was wanted for financial fraud but was never extradited to face charges including securities fraud and money laundering.
A gifted student with excellent computer skills, the Little Hacker dropped out of high school before his senior year to help his mother, a naturalized citizen from the Philippines who was facing economic hardships.
The Little Hacker was also involved in a long and protracted court battle where his father, a Cypriot national, had denied paternity until a DNA test was ordered by a judge and proved he was the biological father.
After doing time in a US federal prison, he came back to the island where he still had run-ins with law enforcement and criminal elements.
Uncle, gun, secret warrant
On Tuesday local media said the uncle reportedly told police he carried out his actions because the Little Hacker had put a gun to his head.
Questions still remained about the timing of Little Hacker's arrest, which took place days after Perikleous had disappeared but before the warrant was made known outside law enforcement.
On April 23, a day after Perikelous' disappearance was made public, the Little Hacker walked with his lawyer to CID Limassol headquarters, where police officers proceeded to arrest him on a warrant for arson and disappearance-related charges.
Perikleous' girlfriend said her boyfriend left the house on April 20, the day when he was visited by Little Hacker.
A timeline of media reports suggested police had found the torched vehicle before making the disappearance public, while additional reports said a T-shirt matching in both color and logo with what Little Hacker had been wearing when caught on video at a shop, was found inside the burned car.
The Little Hacker has refused to answer any questions by police, while the other two remaining jailed suspects were said to be cooperating with investigators.