Kathimerini.com.cy
info@kathimerini.com.cy
According to preliminary estimates from the Geodynamic Institute of the National Observatory of Athens, an earthquake measuring 5.7 on the Richter scale occurred in a sea area off the coast of Rhodes.
The epicenter of the earthquake that struck today at 2:37 p.m. was 63 kilometers southeast of Lindos with a focal depth of 10 kilometers.
The quake had a magnitude of 5.9 Richter, according to the Euro-Mediterranean Seismological Centre (EMSC).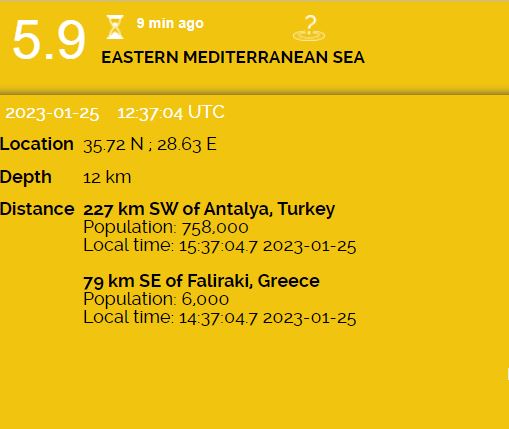 At the same time, the earthquake was said to have been strongly felt in Cyprus.
#Earthquake (#σεισμός) M5.9 occurred 78 km SE of #Afántou (#Greece) 7 min ago (local time 14:37:06). More info at:
https://t.co/LBaVNedgF9
https://t.co/7uPp3waVXE
https://t.co/u0Q5kBJavV pic.twitter.com/QeJdMN4rKJ

— EMSC (@LastQuake) January 25, 2023