''Our way of thinking and action have to be multilateral rather than unilateral, global rather than national, outward looking rather than isolating '' said China's Ambassador to Cyprus at an event at the European University highlighting the benefits of the Belt and Road Initiative.
Chinese Ambassador Huang Xingyuan in his speech made the case for an inclusive global growth, defending globalization and multilateralism.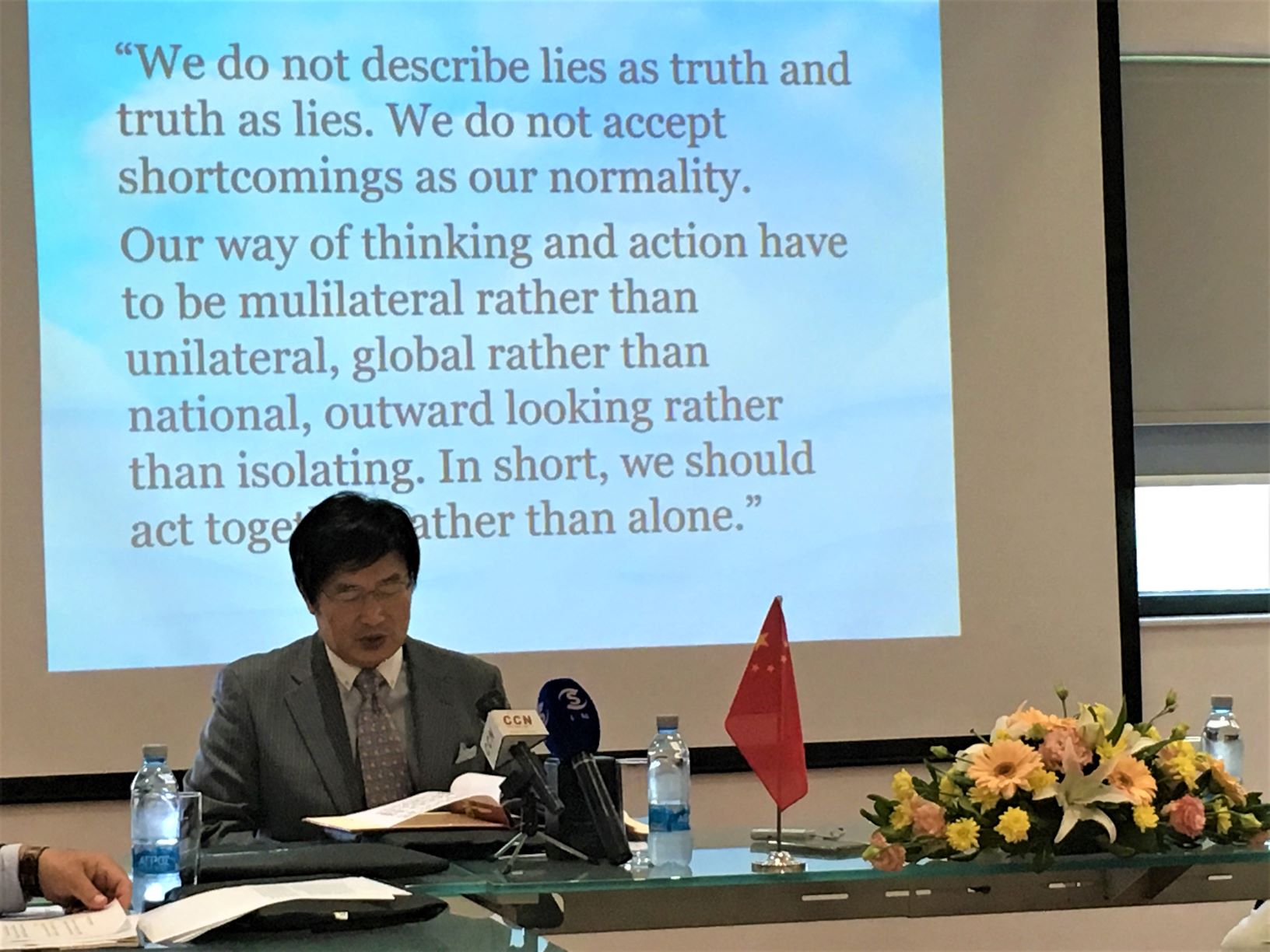 We do not describe lies as truth and truth as lies said the Chinese diplomat, indirectly juxtaposing China's stance in world affairs with the Trump administration. 
China would like to deepen cooperation with Cyprus in sectors such as ports, shipping and infrastructure
''The Belt and Road Initiative is not only a platform for extensive consultation, joint contribution and shared benefits, but also an initiative that invites wide participation and lively discussion''.
The Ambassador admitted that there are misunderstandings and prejudices about the nature of the Belt and Road Initiative. He said that it is right to know eachother's perspective and intentions so that cooperation can become fruitful. The BRI is a voluntary platform and China will not force any country to join it, the Chinese diplomat emphasized.
Rector of the European University Kostas Gouliamos in his remarks stressed that the BRI is a new paradigm for global economic cooperation and deflected criticism over the perception of rising Chinese dominance in global affairs. 
On behalf of the Ministry of Foreign Affairs Ambassador Giorgos Shakalis spoke of the the importance of adhering to European Union regulations but at the same time lauded the voluntary and accommodating nature of the BRI cooperation. 
The Chinese diplomat indicated that China would like to deepen cooperation with Cyprus in sectors such as ports, shipping and infrastructure and to explore the possibility of trilateral cooperation in the Mediterranean region.
China, Mr. Xingyuan said, is looking for synergies and argued that ''the BRI is an inclusive project and we are working closely with the Cypriot government to see where we can complement each other''. We are not trying to impose our ideas on others, Xingyuan declared.
We are actively learning about other countries legal systems and procedures and we strive to be cooperative in our approach Xingyuan said.
China and Cyprus signed a cooperation agreement under the Belt and Road Initiative in April. Visiting Beijing for talks with Chinese President Xi Jinping President Anastasiades said Cyprus can play an active role in BRI cooperation and act as a hub between Europe and Asia.
On the Cyprus issue the Chinese Ambassador said that China is against anyone imposing their will over another.