Gangland shooting suspect asks to have a word with police officer during remand hearing
A man appearing in court in connection with Sunday's gangland shooting in Oroklini initially denied any knowledge in the case treated by police as attempted murder, but local media later reported that the name of another suspect emerged after he asked to speak with an officer in private.
Larnaca police on Wednesday arrested a 31-year-old local man on attempted murder charges after he walked into a station with his lawyer late at night at 9:45pm.
His lawyer says he walked with the suspect in to the central police station in Larnaca as soon as his client was made aware that he was "wanted for questioning" in connection with the incident, where a 42-year-old man and a young boy were injured after shots were fired at their pickup truck on Sunday early morning.
The detained man denied knowledge of attempted murder but verbally provided to a police officer the name of another man who was thought to have been present at the scene
But police say an arrest warrant had been issued after media reports said DNA belonging to the suspect was found on a face mask near the shooting scene, while a gun, cartridges, and a single shoe were also found in the area.
Additional media reports said the gun was believed to have been stolen along with 200 bullets from the home of a reservist back in August in Kato Polemidia, Limassol district.
The investigation, which takes place in suspected gangland territory following previous incidents at the same location, raised question in the media as to the evidence that had been found by finds of the victims and turned over to law enforcement.
Crucial evidence found near the scene
Police spokesperson Christos Andreou, who was a guest on state radio on Friday morning, declined to comment on specific details, such as who may be the second suspect or why would the perpetrators leave crucial evidence behind.
"Unexpected situations can cause changes in how perpetrators plan or carry out a plan," Andreou said.
Local media said emotions were running high following the incident, with various reports suggesting there was elevated concern in the area over whether the shooter knew about a child in the backseat, a serious breach of unwritten rules in the criminal underworld.
Police said they were investigating attempted murder but also gun possession, conspiracy, and several other serious offenses.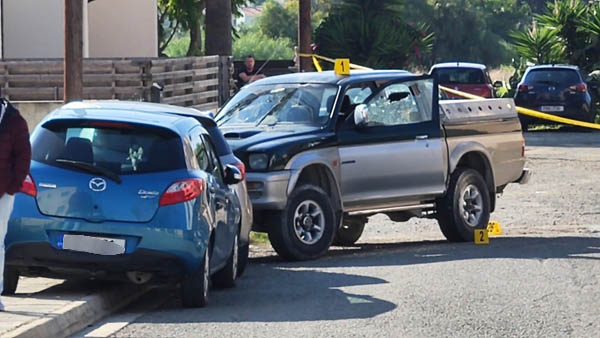 "I know nothing about attempted murder," the suspect told a Larnaca district judge during a court appearance on Thursday.
But according to local media, the suspect then asked to have a word with a police officer.
Media reports said the detained man was purported to have verbally provided to the officer the name of another man who was thought to have been present at the scene of the crime.
The judge then ordered the suspect remanded for eight days.
Police on Friday initially said only one arrest warrant had been issued in connection with the case. But later Andreou confirmed two other warrants had been issued.