Cyprus and Aphrodite consortium sign exploitation license paving the way for natural gas sales to Egypt
Cyprus and the Aphrodite consortium on Thursday signed an exploitation license and a revised production sharing contract, aiming to start natural gas production in 2025, generating projected revenues of $9.3 billion for a period of eighteen years.

The 25-year exploitation licence is the first of its kind signed with Cypriot EEZ licensees and its based on the final development and production plan of Aphrodite agreed between the Cypriot authorities and the consortium of Noble Energy, Shell and Delek Drilling.

On the basis of the plan, the natural gas from Aphrodite will be transferred via a subsea pipeline to Egypt's Idku LNG plant from where it will liquified and exported to European and international markets, an option deemed as the optimum one by the Ministry of Energy.

Speaking to a press conference following the signing ceremony, Energy Minister George Lakkotrypis described today's agreement "as another significant milestone in the Republic of Cyprus' energy programme, which proceeds despite difficulties."

"Our energy programme reaches its next phase completing the hydrocarbons chain, Cyprus from the phase of EEZ delimitation reached the phase of licensing, exploration and now exploitation," he added.

The Cypriot Minister also said that Cyprus "will also become an alternative source of supply for the EU, making another step towards implementing the vision of the countries in the region for creation of the Eastern Mediterranean natural gas corridor."

On his part, Keith Elliott, Noble Energy's Senior Vice President, Offshore expressed satisfaction over the signing of the exploitation licence.

"It's really a pleasure to be crossing this very significant milestone," he said, adding that "today's lays a pathway for the Aphrodite development."
Under the new revised production sharing contract, the economic terms are adjusted featuring a mechanism R-factor that would render the project sustainable for in case of low oil price, while the Republic will be benefited in case of higher oil prices.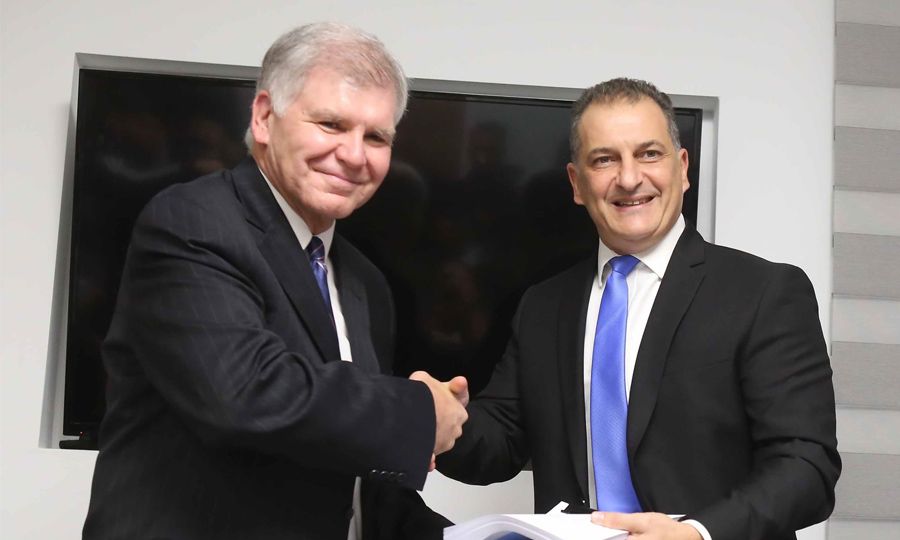 Lakkotrypis said that during the contract renegotiation, the consortium asserted that it could not proceed with development due to low oil market prices, while the contract had not effective control clauses.

In adjusting the contract, he added, Cyprus in return received binding contracts, milestones with strict terms in case of breech of contract, including contract termination.

The first milestone covers the appraisal well, while the Front Engineering and Design (FEED) is the second and the Final Investment Decision (FID) is the third milestone, Lakkotrypis added.

The consortium's development and production plan provides for projected revenue for Cyprus amounting to $9.3 billion on the median and most plausible scenario for 18 years amounting to approximately $500 million per annum.

According to this scenario, the average oil price is set at $70 per barrel in 2022 with a 2% increase rate and calculated natural gas quantities of 4.1 tcf.

Lakkotrypis said that in all three scenarios with an oil price of $50, $70 and $80 per barrel respectively, Cyprus's revenue share is over 50%.

The capital expenditure (CAPEX) for the first phase of development are estimated at €3 billion, with an additional €2 billion in the second phase with additional production drillings and €2 billion in operating expenditure.

Furthermore, the appraisal well which will also be a production well is expected to be carried out in 18 months.

Cyprus is expected to receive its first revenue in 2025.

Lakkotrypis said Shell will be the buyer of Aphrodite's natural gas.

He also added that the pipeline connecting the Aphrodite gas field with Idku LNG plant is not included in the Development Plan and will be discussed with the consortium.